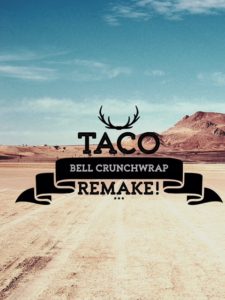 One of our favorite things to grab on the way to the trail, is the Taco Bell Breakfast Crunchwrap. You guys, it's one of the only fast food items we really eat and it is also so delicious. Maybe it's the crunchy outer tortilla or the bits of bacon and cheddar cheeeeze oozing out with every bite? I realized I could make these gems myself and freeze them–so by the time everyone is packing up their backpacks, I can pop these in the toaster oven and wrap one up for each kid. You could totally add whatever spices or additions you wanted, but here's the basic foundation to get you started.
Homemade Breakfast Crunchwrap
(makes about 10, freeze-able crunchwraps)
Ingredients:
1 large pack of hash browns
6 eggs
1 pack of bacon
1 cup of cheddar cheese
1/2 cup of salsa
1/4 sour cream
1 tsp. garlic powder
1/2 tsp. pimenton
1/2 tsp. pepper
1/2 tsp. salt
Flour tortillas
Coconut or veggie oil
Cook whole pack of bacon your desired way (we like oven-baked because it makes the bacon crunchy), chop up in small pieces, and put aside. In a large frying pan over medium heat, add coconut oil or veggie oil until it coats the bottom 1/4 inch. Add in hash browns, garlic powder, salt, and pepper, and pimenton and cook for 7-8 minutes or until they are golden brown. Put aside with bacon. In the same pan, add some coconut oil until it's lightly coated (or you could use the drippings from the bacon). Scramble the eggs, add to the pan, and cook until done. Pour the bacon and hash browns back into the pan and mix together. Add in sour cream and sprinkle with cheese. Turn heat off and let sit.
In another pan over medium heat, lay a tortilla flat. Add about 1/2 cup of the hash brown mixture. Fold the Tortilla into a hexagon shape (no worries if it's not perfect–you just want the shape to resemble a hexagon). Once it turns brown on one side, flip onto the other side to get brown. This will leave a slightly crunchy outside. Lay out wraps to cool. Repeat until you have no more mixture left.
You can store the wraps inside parchment paper then put in a freezer bag. When you re-heat them, I recommend using a toaster oven to get that slightly crunchy outside.
Have you tried the Taco Bell crunch wraps? If so, have you ever made your own? Tell us how you made them or your thoughts on this recipe in the comments below.