Top Picks for Local Family-friendly Hikes
The Bay Area is filled with so many hiking destinations for families. Since all of these locations are close to one another, it gives us variety and a new outlook even after hiking it before. Here are our top picks for best local family hikes. (Don't forget to check out the mini-adventures which are bonus experiences that your kids will love, right on the trail.)
Leona Canyon, Oakland
Distance: 2.5-3mi RT
Terrain: Dirt, rocks
Level: Easy
Dog-friendly/off leash: Yes
This trail is super fun for kids and dogs alike. What I love about Leona Canyon is the accessibility and the unique streams and hills that dip into these natural pools of water, surrounded by ferns and trees. There's tons of friendly dog-walkers and dogs running about off-leash and the streams will almost always have water in them (especially now because of all the rain we've been getting.) The trail itself is straightaway with some small areas near the streams to explore. Shaded for the most part but it does get sunny on warmer days.
All in all, this is a short hike and when we go, it usually lasts about 1.5 hours or more depending on where you explore.
Mini-adventure: There's a side climb that branches of from the main trail. If you hike it, you'll be able to see a small ruins that may or may not be the perfect moment to tell a scary story for kids seeking a small thrill.
Sibley Volcanic Regional Preserve, Oakland
Distance: 4mi RT
Terrain: Dirt, cement fire trail
Level: Moderate
Dog-friendly/Off-leash: Yes
Climbing rails, beautiful scenery, and a volcanic preserve with labyrinth–your kids will love this hike that is packed with fun and scenic views. What I love most about this trail is how it changes from secluded, narrow paths, to open views of the Oakland HIlls. Each trail is unique with protruding tree trunks which lead the way to rockier trails, then the labyrinth. The labyrinth is an ideal place to sit near and have lunch. Once the kids walk the labyrinth and you've explored the area a bit, you can make your way up toward the fire trail which leads all the way down to a parking lot. This is our halfway mark of the "loop" that takes us back to our starting point. Go past the gate on the left and head up. The terrain does get significantly higher and you'll notice some climbing off and on. It will be a quiet, peaceful hike with very little traffic. During the Spring you'll love seeing wildflowers and lately, we've come across some muddier (slippery) slopes and even spotted some newt crossings.
This hike is definitely a longer hike, but if you have a couple of hours, you won't regret being able to get through it because of how much the kids will get to experience.
Mini-adventure: After the halfway point parking lot on the trail loop, keep looking to your left until you see the side of the trail dip down a bit. There is an old cabin structure that is demolished, but several (broken) pottery pieces and furniture have been laid out for your perusal. Not sure what happened here, but it provides some fun conversation and imagination play that left our kids infinitely curious as to its possible tragic fate.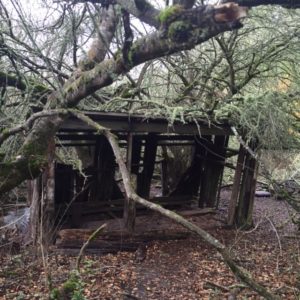 Lake Anza, Berkeley
Distance: 2-2.5 mi RT
Terrain: Dirt, cement/recreational
Level: Easy
Dog-friendly/Off-leash: Yes/in designated areas
One of our favorite places to go for a light hike or for your pup to exert his/her energy is Lake Anza. Literally a hop, skip away from Tilden Park, this small lake is a half day family trip. It's only about 2.5 miles around and boasts rocky streams, trees for climbing, and picnic and recreational beach area. Once you begin, you'll be on cement until you come up on the lake where you might see other dogs going for a swim and playing. Keep curving around the lake where you'll come up on small beaches and rocky edges to explore. Then you'll get to a point where the trail will be mostly rocks and dirt filled with streams that flow toward the lake. Our kids love jumping in the streams  here. Toward the end of the trail there will be tons of fruit trees and berry bushes that will yield some goodies in the Summer–almost like a mini botanical experience. There are bathrooms as you reach the beach and recreational area. 
Mini-Adventure: After crossing the bridge that leads to the lake, there will be a slight dip to your left. Do not pass it up! if you continue down this trail, you'll reach a little waterfall from an aqueduct with water from the lake. The waterfall is the perfect photo opp and is fun to climb around. Our kids love this hidden area, but it can definitely be surpassed especially if there is no water running to hear immediately.
Sunol Regional Wilderness, Sunol
Distance: 2.5-3 mi
Terrain: Dirt
Level: Moderate
Dog-friendly/Off-leash: Yes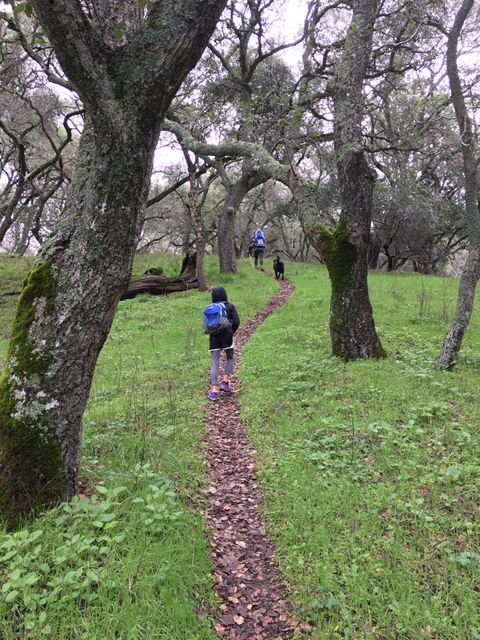 We probably come here other other week. While we frequent the popular trails when you first enter the park, one of the more hidden trails we love exploring when we need a change of scenery, is just nearby. Welch Creek Road is the road located on the left before you turn onto the main entry point of the park. You will need to attain a parking permit at the main entrance beforehand. It is a slow, winding climb for about a mile or so and very narrow with traffic coming both ways. You'll see the trail marker for the Eagle View trail on your right and you can park at the adjacent lot (which has always been empty each time we've come.) Once you get on the trail, you'll come up on trees and damp, grassy fields in the Winter, all exploding with nature. We found a newt sun-bathing on the trail the last time we were here. It's such a peaceful trek up and once you get to a clearing, it'll be open space and hills. Follow the trail which has opened up all the way to one of the best views ever. Continue on the eagle view trail–the terrain starts changing to a desert-like environment with sand and beautiful orange rocks accompanied by breathtaking views.
During the Summer, the poppies are in full effect. You'll end at a dipping section that leads to the hidden gem. Natural waterfalls and streams start roaring and a moderately steep staircase will take you to even more streams. This section of the hike is my most treasured and a mini-adventure in itself. You can continue on the trail for a longer hike, or head back the way you came to make it a roundtrip
.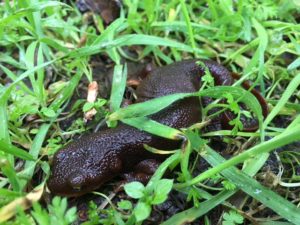 For more detailed information on each of these hikes, go to the East Bay Regional Parks District parks and trails page. Have you been on any of these hikes? Which ones are your favorites? Share your favorite family hikes in the comments below.
Happy adventuring!