Raising Naturalists Through The Nature Pal Exchange
This Fall, we were lucky enough to be able to participate in the Nature Pal Exchange, an exchange solely devoted to sharing your nature finds with another family you are paired up with when you sign up. I remember writing pen pals when I was in 8th grade, and the Nature Pal Exchange reminds me of the same anticipation in writing and receiving letters.
How to get started
Signing up is easy to do–once you've filled out your family information on the website, you'll be asked to give a fee ($5) which goes toward a specific charity or organization. The selected charity changes with each seasonal exchange. Within a few weeks, we received an email telling us about who we were paired up with, where they're from, and the ages of each of their children. This was helpful knowing how we were going to compile our materials.
Collecting the materials
Since we hike weekly, it was fun exploring the different trails in-depth and really taking our time. We found a bird feather, several different kinds of acorns, leaf skeletons, lichen, fruit tree leaves, and much more. I made water-color paintings of each item we collected and included them in each section of the box the materials were in. Exploring during the nature hunts evoked such curiosity that we often stopped for longer periods of time just to study and see each item. There is a list of tips on how to collect items and how to mail off your package once you've finished.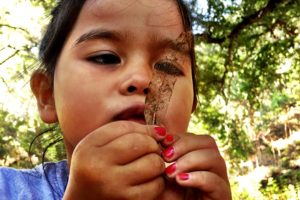 Additional items to aid with collecting
You're given ample enough time to collect your nature finds (about a month) before sending off to your family. We decided to bring along some more tools to help us during the process:
a small card container to put items in (so they don't get squished in your backpack)
magnifying glass to inspect items in more detail
small scissors for trimming excess leaves or fronds
binoculars for expanding the search to other levels
Having a love of nature
Knowing we were going to share the items we found was just as much fun as doing the exploring.  Compiling our materials brought us closer together and we learned a lot through research when we got home. One of our acorns we collected had a weevil inside it and we all learned about acorn weevils and their history. Finding new things in nature is also very exciting as it forced us to slow down and pay attention more than if we were just doing a normal hike. I truly believe every bit of exposure to nature that our kids gets, helps shape their love of green space when they get older. Having moments like the ones we had seeking out our found objects keeps us grounded when we swept up in the whirlwind of our adventures. The Nature Pal Exchange is a wonderful way to cultivate your love of nature at any age while connecting with other families.
Have you ever participated in the Nature Pal Exchange? If not, do you plan on participating? Check out the Nature Pal Exchange website or follow them along on Facebook or Instagram for some nature inspiration.