Florence Nature Preserve
Gerton is ideal for families wanting to get outside in little spurts close to home. When we don't feel like driving, we go to Gerton: Bearwallow Mountain, Wildcat Rock, and now Florence Nature Preserve. Parking can be a hassle if its busy and the small lot in front will fill up–if that happens there's some off shoulder parking if you drive further down the road.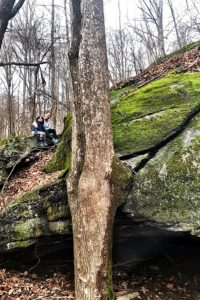 This diy out and back hike is a nearby gem with water features, small streams to cross, trees to climb into, rock boulders to scramble up, and even the ruins of an old home to check out.
The entrance to the trailhead is directly across from the Wildcat Rock Trail head and climbs up a narrow path through switchbacks until the trail starts to widen after about 1/4 mile in.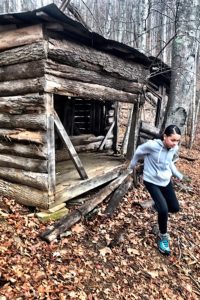 On the way, tons of fallen limbs and branches make for great hiking sticks. Poppy still searches for the perfect hiking stick on any hike we go on. We went about 1.5 miles in then started our way back to the beginning of the trailhead. You could continue along; there are several colored blazes but no trail names.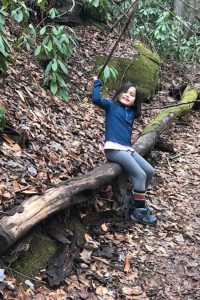 We followed the yellow blazes then connected to the blue blazes then headed back–this was the perfect amount of time (about 2.5hrs out and back) without the crowds!
Have you explored this trail before? If so what do you love most about it?