Lakeside Camping at Devils Fork State Park
Last Summer we drove to Devil's Fork State Park where we camped alongside Lake Jocassee in a beautiful, family-friendly, site. We could literally step out of our tents and into the water at sunrise. A 45 minute drive to South Carolina from Asheville, this camping trip was low-key and so much fun. Kayaking, hiking, rock-jumping…there's plenty for kids (and adults) of all ages can get into–Here's what we loved about this trip and some added tips for next time.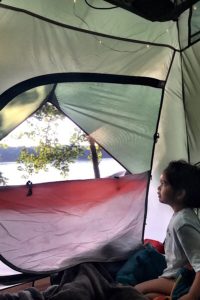 Lakeside digs
Devil's Fork State Park is the only way to access Lake Jocassee and you have to reserve the sites ahead of time. We reserved a lakeside site (14) for 3 nights and in the middle of the week and we enjoyed having no one else around us as we explored. There was one camping pad and a second level closest to the water to set up another tent. The views from both tents were spectacular. The bathrooms do have showers but you have to walk to get to them. Speaking of which the lakeside sites are all hike-in. That means once you pull up to the parking area, you'll need to schlep your camping gear down paved pathways to your site–in our case, a few hundred feet. Rollaway coolers and backpacks were very appreciated!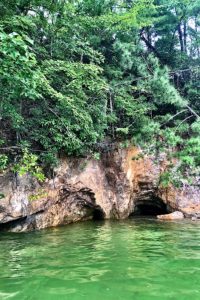 Get your feet wet
One of our best experiences camping here was by far kayaking. Eclectic Sun rentals provides kayaks, pontoons, and more for any trips you want to experience on the lake. If you reserved a site, simply take a short drive and park in the Eclectic Sun lot. For 2 hours in 2 sit in kayaks it was about $64. That was enough time for a quick tutorial, get suited up (it's not required you wear your life vests but we opted in for safety purposes), and head out. We kayaked to some inlets and got out to swim a bit then found our site and paddled past it. The Eclectic Sun pavilion has a concession stand and carries any last minute boating supplies you may have forgotten.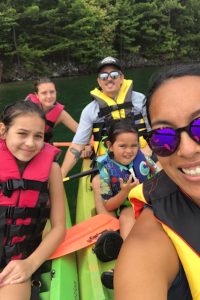 Hike, jump, swim
Any of the lakeside sites from where we could tell, (13, 12, 10, 14) all have access to a small trail leading to an awesome jumping rock. Here, the older girls spent most of their time swimming, sun bathing, and exploring all the lake coves. The water was so clear, it was almost expected we'd see fish anytime we went out. While we didn't have time to explore any other area, we did see there was playground and Bear Cove Trail, a 2.5 mile loop. The Oconee Bell Trail, a 1.5 mile loop is another trail near the entrance of the campground.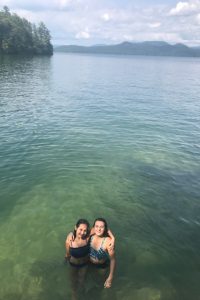 Some tips to keep in mind when you camp here
-Bring your own garbage bags. All garbage must be collected and brought to the trash receptacles before the entrance to the camp sites.
-Bring some extra buckets and nets if you have them–we caught a few fish and observed them just outside our tent.
-There are waterfalls here but you have to kayak to get to them and from what we researched it's a strenuous paddle that could take a day out and back. I'm not sure we would do this with younger ones but a trip out with older kids sounds doable.
-Water shoes are awesome if you decide to go kayaking or any other boating activity.
-Wildlife is active here. Pack up your food in coolers and keep them in your vehicle just in case. (Just keep in mind you'll have to hike to your car each night.
-Bring a life vest or two. The current near the sites although near the cove, was strong at times and we put a vest on Poppy anytime she wanted to swim near the campsite.
-Be sure to reserve your sites early, as Summer is already booking up fast! We booked late and got some great sites in August but we also went in the middle of the week when no one was there.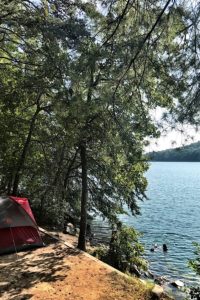 Would you camp here with your family? Let us know if you will or if you've already been, we'd love to hear your favorite part of the trip.