Happy Birthday Smokey The Bear, My Moral Compass As A Kid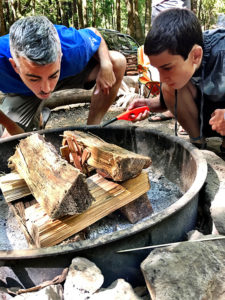 "Never leave a campfire unattended; an adult should supervise the campfire at all times"
I grew up in the late 80's and one of the faces that I remember being everywhere was Smokey the Bear. His scruffy fur and ranger hat always stood out for me–not to mention he became a voice of reason for me on not only fires but anytime I questioned participating in anything outdoors related. Example: Would Smokey the Bear like if I took these acorns home to make art with them? Would Smokey the Bear be happy if I snuck out to the park with my sister?  Even though everyone I knew loved Beavis & Butthead, I thought to myself how maybe Smokey the Bear with his iconic, assertive voice and khaki hat, was not ok with playing with fire, err, chance to get in trouble, even.
Fast forward 25 years later and while the PSA's have toned down the moral overtones and Smokey has his own blog and social media, his message of preventing forest fires is still very clear and with added support. Now, instead of focusing on just prevention, there's education resources, tips and interactive ways to engage kids about fire safety as well as the science behind fire.
If you grew up with Smokey the Bear but need a refresher on how "…you can prevent forest fires", visit Smokey's website and follow him on Facebook, Twitter, or Instagram. He even has his own hashtag: #smokeybearhug
There are a slew of videos (like the one below), ads, and posters on the site that will hit you with a wave of nostalgia or if you want to show your kids how mom and dad made decisions, let them watch any of the Smokey the Bear commercials. Happy 72nd birthday, Smokey!