Camp Reusable: Smelly Proof Storage Bags Review
We go camping at least twice during the Summer. Ease in packing and unpacking with less waste is something we strive for with each camping trip. Having an easy and reliable storage bag that fits our outdoor needs is hard to find. We had the opportunity to test out Smelly Proof Storage bags and we can now say we can go single-use plastic bag-free during our adventures. Read our review below and see how switching to reusable storage bags could be a simple green option outdoors.
Smelly Proof Specs
BPA Free and FDA approved
Various sizes from extra small to extra large and standing
Dual-track, leak proof zipper seal to keep smells/liquid in
Tear and puncture resistant
Comes in clear and solid black
"Bear tested" in the outdoors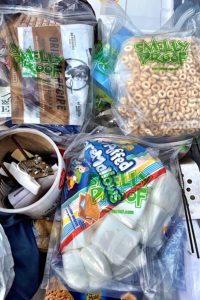 Ways to use the Smelly Proof bag
Wet clothes – Protect swimwear from dry clothes
Small items like batteries – Keep small items from getting mixed in with larger items
Toiletries – Protect the rest of your gear from lotion or other spillable items
Spices or bulk food – Store rice, spices, and other small food items
Freshly caught fish – Keep the rest of your cooler foods from smelling like fish
Dirty diapers on the trail – Last minute diaper blow outs can be stored separate inside a backpack
Emergency or first aid supplies – Ensure protection of your valued supplies
Matches – Keep wetness away from your fire starting supplies
What we loved about Smelly Proof Bags
Most of our camping foods were stored in the Smelly Proof Bags in tupper ware containers. The seal on the bags were smooth and closed easily. We even stuffed leftovers from our meals inside them, placed them in the cooler, and when the ice melted no water got inside them. We also noticed that no leftover smells or even the rest of a chopped onion didn't stink up the cooler space–something that single-use plastic bags or reusable containers have a hard time doing.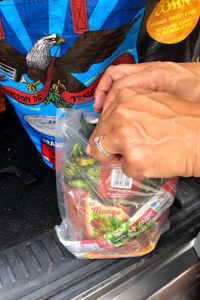 We used the bigger sized bags to store wet swimsuits inside to keep our dry clothes from getting soaked and they didn't. We only kept them in the bag for a day or two and when we removed them, there was no smell of mildew.
Once you wash them, they dry pretty quick. The thickness of the bags keep the outside stiff so water can dissipate faster. There were no water marks or soap residue! This was great because we didn't have to wait a long time to use them again.
Something we used the bags for which was a welcomed surprise was as a dry bag for our friend's phone while we were kayaking. We took pictures and had access to the phone's touch screen even while sealed. While the photo quality was not the best, the phone stayed dry and we didn't fumble closing the bag evenly with wet fingers.
Last Thoughts
Overall we love the simple design of the bags and the many uses it carries and how we have reusable bags for camping or any outdoor excursions with our kids. We are happy to add another eco-friendly alternative to our camp kit.
Not sure how to take the first step away from single-use plastic bags? Go to Smelly Proof's website for 10% off your order using code "RKW10" on any product and switch to reusable bags. When you try them out, let us know how it goes and what you like best about them.