Veyo Kids Noggins Sun Hat & Sun Hoodie Review
Summer is here! We are always on the search for new sun wear so when we discovered Veyo, we were happy to share our experience (well, Poppys') with their Noggins Sun Hat and Sun Hoodie. If you've wondered about either of these, we hope our break down on each will be helpful to you when considering buying from and supporting this small, kids outdoor gear web shop.

About Veyo Kids

Drake and Chris were friends in college when they came up with the concept of Mittyz line of waterproof mittens. Drake made a pair using his wife's sewing machine due to not being able to find a pair that would "End the thumb wars" and go on easy. A few years later they used this same concept for their Sun Hat and Sun Hoodie line which we we had the chance to test out at a ranch in high heat, and during a camping trip.

The specs on the Sun Hoodie and Sun Hat

Noggins Sun Hat – $19.95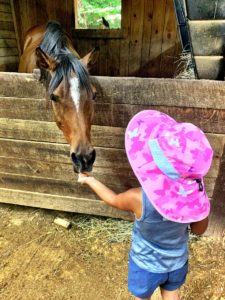 Wide-rim to block sunlight
UPF 50+
Sizes come in small and medium or 6 months-3 years or to 3 years -8 years
Two color ways
Safety release chin strap
Adjustable bungee toggle
Mesh lining to keep heads cool when wet
Sun Hoodie – $24.95
Stretch Polyester/Elastane material
UV protection rating 40+
Lightweight and quick dry capabilities
Sizes range from 2T to kids large
Three color ways to choose from
What we loved about the Sun Hoodie
We took our sun hoodie camping this past week and used it in the lake near our site whenever Poppy wanted to wade in the water. Upon putting it on, we noticed how lightweight it was which is great since she was definitely getting wet. Even after getting soaked, she kept it on. If it was sopping wet and heavy, I know she would have wanted to take it off. The sun protection kept her from burning and it covered her whole top half completely. The seams were intact and did not feel flimsy. She was able to swim and move about easily. Overall she loved it and kept it on!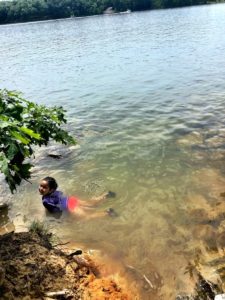 What we loved about the Noggins Sun Hat
One of the main things we noticed and loved about the Sun Hat was the oversized brim. A lot of hats only cover enough for the face, but this hat covered her face and then part of her neck area. We tested the hat riding horses at a ranch and were in the sun most of the day. She kept it on (chin strap included) and when she got hot, we wet the mesh part inner part of the hat. This was great because the breathable fabric and wet combo kept her cool. The chin strap isn't too tough so it didn't feel uncomfortable when cinched up all the way. Being able to wear the hat for more than a few hours means it was comfortable and breathable–the two main factors that are important to her.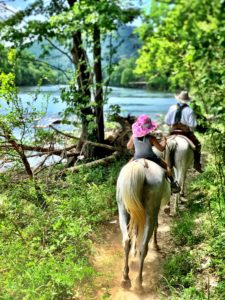 Last thoughts
We loved both the Sun Hat and Sun Hoodie and really look forward to wearing again now that Summer is in full swing. I washed both and they held up perfect after flat drying or using in dryer. The one thing I'd like to see is an addition of other color ways to both–Poppy doesn't always like just blue or pink or camo design.
As a thank you for reading our review and checking out these wonderful Summer products as well as the Mittyz and Noggins line for Winter, you can get 20% off your purchase. Go to Veyo's website and use the code "RAISINGKIDSWILD" when you checkout to receive 20% off now until July 8, 2019. Let us know what you think if you decide to try out the Sun Hoodie and Sun Hat!
*We received free product to try out from Veyo and all opinions stated above are our own.