Fresh Spring Rolls With Nuoc Cham or Peanut Sauce
It's the first day of March and while I'd rather be outside hiking with Poppy, she is getting over a cold and I have caught whatever she had. This is OK, because now I get to share a recipe that may seem hard to do yourself, but is really very simple and straightforward once you actually get into it. Dare I say better than take out? I do.
I couldn't think of a better way to start this month than with a new dish I've wanted to try and did for the first time last night: Fresh Spring Rolls. Loaded with veggies and with 2 sauces for dipping, this is a fast meal for my kids and a way to get more veggies in if your clan is challenged in the veggie-eating realm. Even my big kids ate them all without complaint or pulled teeth. I usually make my own peanut sauce but you can make your own–I like this recipe minus the hot sauce. This time around I used store-bought peanut sauce.
Ingredients
1 pack of rice paper sheets (round)
1 cucumber
2 carrots (I used rainbow carrots)
1/2 head of lettuce (I used romaine)
1/2 cup of red cabbage
1 avocado
1/2 pack of soba noodles
1/4 cup of cilantro
Instructions
Boil some water and add the soba noodles. They usually cook in about 5-7 minutes which is enough time to prepare the rest of your ingredients. Once they're done cooking, drain them and set aside.
Julienne the carrots and cucumber, wash and chop the bottoms of the lettuce, slice the avocado, and roughly chop the cilantro--put aside. Make sure to let out any excess water from the lettuce.
Open the package of rice wrappers. Grab a pie dish or pan and fill with warm water. Let the wrapper soak for about 7 seconds until it starts to feel slippery and begins to loosen.
Lay the wrapper (it will feel slimy) on a plate. I find a glass plate is the best surface.
Stack a bit of each ingredient on the bottom portion of the wrapper and begin to roll away from you, making sure the edges are folded in after the first roll. Once you have rolled all the way up, the end should stick to itself.
Cut the roll in half and dip in peanut or Nuoc Cham sauce.
You could use different variations of this recipe and substitute rice noodles for soba or add in some shrimp (I love the consistency of soba noodles better). I'm also crazy for the Vietnamese dipping sauce (Nuoc Cham). Whether you DIY or buy the sauces, they are the absolute best with all the raw veggie flavors. You will have leftover ingredients which means you could make more the next day–I wouldn't recommend making in bulk because they don't taste as good 2nd-day. Something about the rice wrapper being too hard after refrigeration…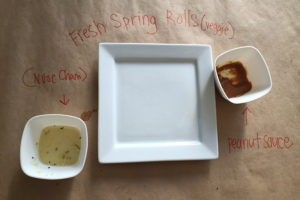 As you can see, my head was saying wait to eat them until after you take a nice photo, but my stomach was saying go for it.