Why Geocaching Will Become Our New Favorite Family Activity
This past week we found some time to give Geocaching a go. You're wondering what that is? If I had to give it a definition I'd say it's a super fun treasure hunt where you look for a cache (container of some sort). Ok, We've only been once, but I can honestly say we cannot wait to go again after this first experience.
We downloaded the Geocaching app on our phones and selected a cache route in the area we were in. We had already planned on hiking and coincidentally enough, there were caches in the area. Since it was sweltering hot all day, we ventured out when it was a bit cooler, around 4pm. When we neared our hiking destination, we looked up on our app where the cache was buried and it was right on the trail we were on. We went a little over 1 mile before we came upon our trail marker leading us to the general area. The good thing about geocaching, is that it's an activity that can be done even if you don't hike and they are hidden everywhere–even in your own neighborhood!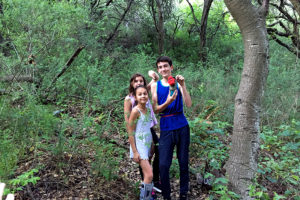 The kids did the digging to find the cache. It was definitely not in plain sight and required some extra investigating around tree trunks and bushes to find it. But once they did, eyes lit up with excitement and I can't say there wasn't any fighting over it. After we decided to all gather around it and let our oldest do the honors, it was like we had found a buried treasure that someone hid just for us. Only, it had a log book with a pencil that had previous founders on it before us. That mattered all of a few seconds as we pored over the contents of the glass jar and discussed which knick-knack we wanted to trade for a free Lindsay Wildlife Museum Pass. Once everyone selected their treasure, we put our pass into the container, signed the log book, sealed it up, and put it back in its original place.
Afterwards, all we could talk about was how much fun it was finding something we had to look for together. We all couldn't wait to do it again and I wondered if more people didn't do this more often? I bet being a geocacher is fun too. You get to bury. the. treasure. Basically. But even more so, it does take some level of skill to be a geocacher. We spent nearly two hours enjoying nature and each other's company, anticipating finding the cache.
Check out the Geocaching website and don't forget to download the official Geocoaching app on your smart phone. REI has some great tips about getting started with geocaching too. I especially liked their etiquette section. If you decide to go, be sure to share with us how your experience went in the comments below. For us, it was a unique bonding experience and we have something to change it up a bit than our normal hikes we've become so accustomed to.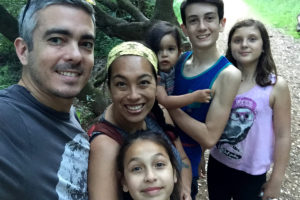 Happy Geocaching!