The one warranty experience giving me all the feels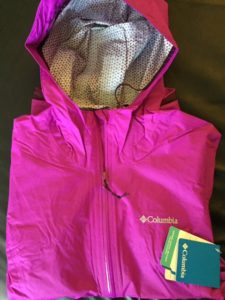 One of my absolute pet peeves when it comes to owning outdoor gear, is if it becomes damaged in some way. I mean, you spend all that money on an item you expect to hold up. That's the thing with buying outdoor gear and wear: it's an investment that promises to last alongside your epic adventures.
Well, life happens and things break or wear over time. That is what happened with our Columbia Windbreakers. Disclosure: Columbia Sportswear clothing technology is by far one of the most advanced and easily understood, IMO. Plus, who doesn't love Gert and her progressive vision as a woman in the clothing industry? Ok, enough of me gushing over these guys.
I had this windbreaker for over 5 years. I recently washed it in anticipation of the rainy season. I noticed the inner protective layer started to peel off and it was all over the washer when I took it out. I immediately thought about the warranty and went online to see what they could do. Coincidentally, my husband James' also started flaking a week later when he washed his. The jackets were covered by the Limited Lifetime Warranty provided and it states that if it is damaged in any way, they will fix it or replace with a comparable item.We sent the jackets back (we paid shipping) after filling out the claim form and being issued an RA (return authorization) number. Within weeks, we checked in on the items via phone call and a representative assisted us in first finding the warranty in their system, and second, selecting a comparable item to replace them with as these were no longer in production. We got our new jackets in the mail 5 days later and what's more is they were upgraded with newer technology.
This warranty experience gave me ALL the feels.
Outdoor gear is a huge investment and I always recommend to my family and friends to check if their gear is covered by warranties. This article by Gear Junkie, lays out some prominent brands and warranty information that is super helpful if you plan on purchasing any of their gear. If you're a family like ours, then you know the importance of durability but want to weigh in on the spending the money.
Do you have an awesome warranty story to share? Maybe a horror story? Share them in the comments below.