Get outdoors more and sign up for the 2016 Trails Challenge!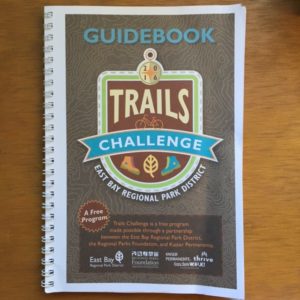 If you've been wanting to experience getting outside more, East Bay Regional Park District hosts a free program and annual Trails Challenge that will be a great way to get started. I know a ton of families that wish they could get outside more, and this challenge is fun because there's no pressure and you'll find that once you begin, it'll be hard to stop seeking out new trails. (Nature has that effect!)
It's simple–you download a copy of the EBRPD guidebook (this years' guidebook will be a staple in your home) which lists featured trails to check out, tips for hiking, and there's even a section for hiking with kids including age-appropriate games to play on the trail.
To complete the challenge, you just have to complete 5 trails or hike 26.2 miles. Just log your miles here, email it to [email protected], or mail it in:
East Bay Regional Park District
c/o Reservations Department
2950 Peralta Oaks Court
Oakland, CA 94605
You can also pick up a copy of the guidebook at participating visitor centers, along with a FREE Trails Challenge t-shirt!
So will you join this years challenge and experience the outdoors? Let us know if you signed up and the trail you're most looking forward to hiking. Don't forget to follow us on Twitter and Instagram and tag us with your trail photos.
Happy Adventuring!