A Budget-friendly Guide to Buying Oudoor Gear for Kids
It took several years for our family of 6 to build an outdoors wardrobe while sticking to a budget and embracing our loved lifestyle.  When our BKs were toddler age, we quickly realized the restrictions that high-cost gear presented us with during growth spurts–spending money on quality gear, however, was a priority as we saw our usage rise over the years. Lasting gear is something that should be available for all families but that is not always the case for larger families or anyone who just doesn't have disposable income for the outdoors. We'd like to share a few resources and go-to shopping tips that have helped us curate a reasonable wardrobe so you can worry less and have more fun as a family exploring which is what being outside is all about.
Keep, donate, or consign?
We donate clothes all the time. This past season we donated a ton of outdoor gear that either our kids outgrew or that we didn't have a need for. Adjusting to the elements also made us realize the needs of homeless shelters and organizations during the cold months when outdoor gear is truly most needed. Trading in clothes for credit at our local consignment store for something more suitable is also fun. Being able to tackle clothing each season can be simple with the rule of keep, donate or consign. Here's a helpful flowchart to help you navigate the process: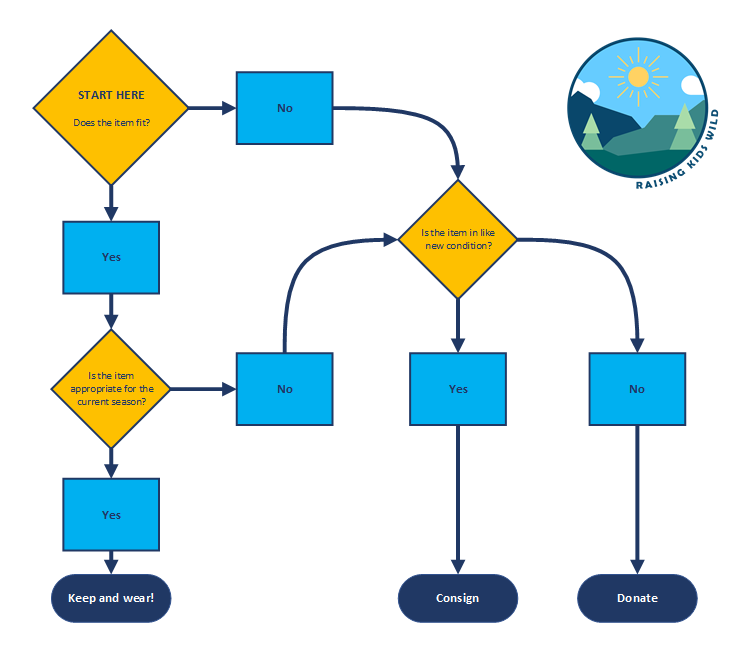 Choosing garments that last
We almost always buy second-hand for all our kids. If we don't, they are items that I know will grow with them over the years. If the main concern is functionality, then finding clothes second-hand is super easy and affordable. Here are some garments that you can always find second-hand and that will last over time:
Jackets with insulation
Beanies, hats, gloves
Scarves
Backpacks
Sweaters or zip ups
Sturdy boots
When to buy new
There are times when we get to buy something brand new just because and that is ok. (Hello, REI dividend) We recently just shopped for a new bike for Poppy–we researched, asked friends, and even "test-drove" a friend's balance bike to see how she would like it before moving forward.  Another reason we might buy new is that we know the usage on it would far exceed the life of a second-hand item. If we are actively and consistently making an effort to buy second-hand, we appreciate new items that much more. We go through the flowchart and as a family figure out by each child, their needs, and more importantly how we can practice more sustainable decision-making without breaking the bank.
Questions to ask yourself when looking for outdoor clothing
Is this item made of a material that will withstand the elements ie: wool, polyester, fleece
Can this item be passed down to another child after it's used?
Will this item be something that will grow with my child?
Does the item have any holes or noticeable wear on certain parts? Are the zippers, seams, elastic intact? For boots or shoes, do the soles have minimal wear?
Now that you have another resource to take you through the cycle of outdoor clothing, what are your biggest concerns or challenges that come up when you do? Share them in the comments below.