Hydroblu Sidekick Review
What is more exciting about drinking water fresh from a stream, than showing your kid how to do it too? We've already mastered drinking water from a spring but we wanted to take it a step further and bring a filter. James and I have our own pump filter we use when we go backpacking but having a smaller, portable filter like the Hydroblu Sidekick 3 Stage Straw Water Filter made teaching Poppy really easy to do.
Here's what we love about it:
Lasting, safe, convenient design
The outer body which is hollow fiber can last up to 10,000 gallons–which means more water on the go longer periods of time. When I immediately saw the filter had a 3-stage filtration process, I felt at ease especially since HydroBlu was a brand I didn't have any experience with.  If you go on hikes near water like we do, then this filter would be great for short hikes or backpacking trips. One of the things I love about is the flip-cap and cleaning is a breeze: it takes a few seconds to rinse it out and then air-dry it for future use.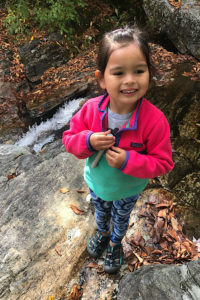 Perfect for little newbies
We tried the straw out first making sure the water was coming up alright and it did. When we showed Poppy how to use it, she instinctively knew to flip the bottom open and take the cap off. We drank straight from the water source and when she took a few gulps of water, she went right back to drinking more. Afterward, she remembered to close the cap and even tried clipping the top to her backpack strap. Seeing how at ease she was drinking out of the straw was a huge moment for her and of course, we were beaming.
Portability
The size of the filter is a little larger than a highlighter–yea, its super portable. That said, it is not meant to replace your main water bottle or filtration system. It is great for quick sips of water when there is a water source available or when you might run out of water (which happens a lot with us!) I also love that it comes with a replacement filter. It would be a great addition to your backpacking or hiking essentials as well as for emergencies.
The Specs
Removes 99.999% of Giardia, E.coli, Cryptosporidium, Cholera, Protozoan Cysts, and parasites
Reduces chemicals and heavy metals
Filters to 0.1 micron
100-gallon capacity and weighs less than 1 oz.
Actual size: .7″ wide x 6″ tall
Working temperature is 39-122 degrees Fahrenheit

What we wish was different:
While the design of the sidekick is awesome, the clip that you attach to your clothing or backpack strap is not strong enough. We did lose our first filter after instinctively wanting to slide it onto Poppy's backpack strap. We also would have loved if the filter had a pouch or something that would keep the replacement filter close by–I was fumbling in my backpack pocket trying to make sure I didn't accidentally lose the replacement tip, as it's small.
Overall, we loved the Sidekick and think it would be a great product for when you're thinking of teaching your little one to drink water outdoors. Poppy now asks us to bring it when we hike and gets really excited when she gets to use it. The sense of curiosity she got when learning to use it was an invaluable moment.
Have you taught your little ones to use a water filter outdoors yet? How did it go and what worked or didn't work?
*Disclosure: I received free product from HydroBlu to review–all views and opinions are my own. Open to U.S. residents only*