Pisgah National Forest: Bent Creek
One of the things I'm really having an easy time adjusting to is how many trails are around us, sometimes within 15 minutes from where we live. One such place we've discovered (and find ourselves coming back to already) includes a collection of modest hikes, an easy loop perfect for little ones, and some serious splash zones for the furry family member. Bent Creek Experimental Forest is within the Pisgah National Forest and allows hands on research studies for land managers. (I can see why–this place is full of amazing water holes and nooks to check out.)
We started out at the Hardtimes trailhead which led us to the Homestead trail (lake loop.) What I love most about this area is how kid-friendly it is. Poppy was able to hike most of it on her own before she wanted a little help the rest of the way. There were plenty of stopping places to throw rocks into and play hide and seek in.
We even named our first landmark before the Homestead trail head, "Stage Rock" because it's where Poppy puts on a quick singing performance before going any further.  On one of our first times here, we got to see "needle ice", one of nature's many phenomena (and pretty cool to see in person.)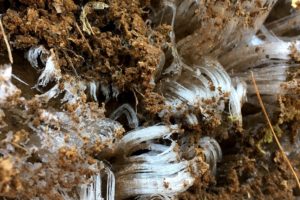 After jumping on the Homestead trail it was all lake and creek views until the end when we came to the start of the hike. The watershed near the lake has some fun water run off areas that Poppy enjoyed looking at and the recreational features (beach, easy access to trail head, camp offerings) were already making their way into my  Summer list of places to visit.
If you have a few hours to spend in the mornings or want to stay within Asheville, this trail head is the perfect place. There are other trails in the area that we haven't explored yet but when we do, I'll be sure to tell you all about them here.
We are still new to the area–Do you have a favorite go-to trail for families that you'd like to share? Be sure to tag us on
Instagram
with #raisingkidswild or connect with us on
Facebook
and
Twitter
.