How To Make A Nature Mandala
Today was really gloomy out, but that didn't stop us from getting out and exploring in Leona Canyon. Lately, Poppy has stayed in her carrier–I've switched it up a bit and allowed her to hike a mile or so on her own until she gets tired then use the carrier as a way to enjoy some other activities while we hike further on.
Our fun activity I had planned for us to do was make a nature mandala. We practiced saying "mandala" a bunch of times before she got it and it sounded like "endala". I explained to her that we needed to collect different items and that afterward we would find a spot to sit at and make our mandala. She was totally stoked at the fact that she would be helping make this "endala" so she stayed content until we were done gathering.
Here is what we collected of the found items. I only took from what was on the ground and if we picked a flower they were the ones low to the trail floor and slightly trampled on.
thin sticks with bend to them
rocks of various colors (we took from the beginning of the trail because these had orange tint to them
flowers
bay leaves and fern
You can use whatever materials you find and even in different environments and you should have at least 5 rings. Here are some examples of places you could create a mandala:
on a trail during a hike
at a park
beach
in your backyard
campsites
We made sure to select a spot that was flat and free of loose things like big rocks. As I began to piece each circle layer with the different items, Poppy helped me pick out what we used on each one. Afterward, she handed me one last rock (her favorite thing) to put in a circle and then we admired our creation. She was very calm and quiet throughout the layers. I can't wait to do another one with my big kids and see what new designs we come up with. This was the perfect activity to do mid-hike when we needed a break to just sit and chill.
Have you ever created a nature mandala with your kids? Show us your nature mandalas by tagging us on Instagram #raisingkidswild. We'd love to see your creations.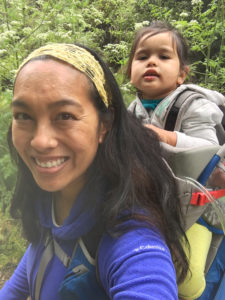 Happy mandala-making!