Martin Canyon Creek Trail, San Ramon
If you have a couple of hours and want to check out a trail in the Tri-Valley and don't mind driving through a neighborhood to get there, this little patch of trail is perfect to escape the suburbs. The Martin Canyon Creek Trail is part of the Dublin Hills Regional Park and boasts some open space that oversees San Ramon and parts of Dublin. It is a trail nestled among homes at first, then climbs further into the forests that surround. Trail runners, mountain bikers, hikers, and residents alike frequent this trail often. It is perfect for kids that have hiked before and who are looking for a challenge.
Distance: 3.5+ miles RT
Terrain: City road; dirt
Level: Moderate
Dog-friendly/Off-leash: Yes
When you've fond the entrance off of Silvergate Avenue in San Ramon, you'll want to either start on the city listed trailhead for Martin Canyon Creek Trail, or you could opt to start right before it through an open lot that leads to a trail behind the homes parallel to it. Once you get past the homes in that area (there are several as you make your way to the city road) you'll near some picnic benches and a small cement bridge. This is the perfect place to do some stretches before you get on the trail. You could continue on the city road or take the dirt trails. We usually choose the dirt trails then zig zag back onto the city road.
You'll see streams and creek beds as the rain allows it and this is the perfect place for your pup to enjoy some swim time. The city road gives you access to some cows and horses which Poppy knows by habit everytime we pass this area.
After about almost a mile you'll get to where the city road and hiking trail meet. Go through the gate and continue on the trail for about almost another mile. The trail narrows a bit in some parts with moderate climbs. It might be hard with a carrier your first go, but it gets easier over time, I promise.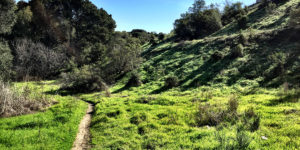 When you get the open space, look to your right and head up the narrow trail leading up to a family of rocks. This is usually our resting point until we head back the same way we hiked. It's also a great place to get some panoramic views of San Ramon and Dublin. Such a reward!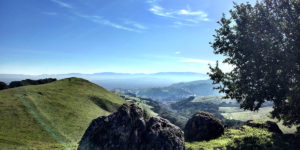 Depending on which route you go to get to the open space, the hike is about 3.5 miles give or take. Bring lots of water and snacks and if you try this hike out, let me know how you liked it.
Happy Adventuring!